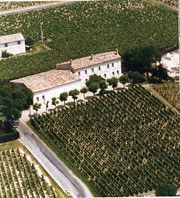 Wine Spectator's review :
"It's difficult to say that the wines of L'Eglise Clinet have a defining style--except that they emphasize the inherent qualities of the Merlot grape in each particular vintage. There's a crystal-clear, vibrant quality to the wines of this estate, with an almost hyperrealism to them. For instance, the 1989 in the tasting was fat and rich in character, perfectly reflecting the ultrahot and ripe style of the vintage, while the 1996 was solid yet racy in tannins, underscoring the leanness of that year.
Durantou's property encompasses just over 13.5 acres of vineyards. It's in the western section of Pomerol, just where the clay-soiled knoll made famous by such great estates as L'Evangile and Pétrus begins to turn to gravel. The vineyards are planted to about 85 percent Merlot, with the remainder in Cabernet Franc. The average age of the vines is about 40 years, which is very mature for the region and assures a low production of high-quality grapes. About one-third of the vines are 60 years old, another third 40 years old and the last third younger than 20 years. Annual production rarely exceeds 50 barrels, or about 1,250 12-bottle cases.
Durantou is an open, straightforward winemaker with a passion for all types of great wines. He not only holds a university degree in political science and economics, but he received a second one in agricultural science, as well as a diploma in wine tasting from the University of Bordeaux. He has a no-nonsense view of wine and winemaking, which explains why his wine cellar is so basic: It resembles a garage in the suburbs, containing a few stainless steel vats and barrels. "