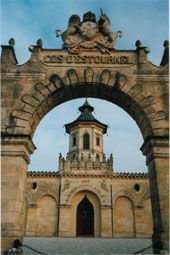 The Cos d'Estournel, Grand Vins, is most likely to be a derivative of caux, itself derived from colline de cailloux, meaning 'stony slope'. Although in French the terminal consonant in caux is silent, in the Gascon tongue the end consonant is most certainly vocalised, accounting for how caux may mutate into Cos over the years.
The vineyards of Cos are on the customary Quaternary gravel which peppers the left bank of the Gironde. There are 70 hectares divided up into 30 parcels, with Cabernet Sauvignon holding a slight predominance, accounting for 60% of the red vines, with the remaining 40% being Merlot.
There was once a small amount of Cabernet Franc, about 2% of the vineyard, but this no longer seems to play a part in today's Cos d'Estournel. The Cabernet is concentrated to the west of the vineyard, where there are well-drained gravel slopes, whereas the Merlot prefers the eastern edge where the limestone bedrock peeps out from beneath the surface gravels.
The vines are planted at a density of 8000 to 10000 vines/ha, and have an average age of 35 years. Only those of more than 20 years provide fruit for the grand vin, Chateau Cos d'Estournel, with others most probably destined for the second wine, Les Pagodes de Cos. Each vineyard worker has responsibility for 45000 vines, and must oversee the routine vineyard tasks such as pruning and leaf-thinning.