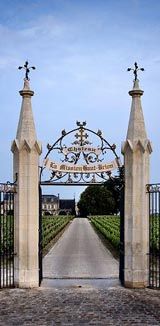 The vineyards of La Mission Haut-Brion occupy a gravel croupe over chalk in the most northerly part of the Graves commune, across the road from the vines of Haut-Brion, and surrounded by the suburban streets of Bordeaux. There are nearly 21 hectares all told in two portions, the first situated in Pessac and the second in Talence, these two sections divided by the railway line between Bordeaux and Arcachon, a popular resort on the Atlantic coast.
There is a slight incongruity on the composition of the vineyard between sources, differing only by one or two percentage points, but Turid Hoed Alcaras, informed me that it is 45% Merlot, 46% Cabernet Sauvignon and 8% Cabernet Franc. The vines have a surprisingly young age, approximately 20 years, and are planted at a density of 10000 vines/ha.
The harvest is naturally gathered by hand, with sorting beginning in the vineyard where truck-mounted sorting tables are positioned. Fermentation is in the aforementioned stainless steel vats, which hold 180 hectolitres, with the temperature regulated to 30°C, and the whole process under the control of a dedicated computer system. Once the fermentation is finished the wine is transferred into oak, using 100% new wood, where the wine rests typically for 22 months, before an egg white fining and bottling, without filtration.
The grand vin is Chateau La Mission Haut-Brion and of this there are typically 8000 cases per annum. The wine of Chateau La Tour Haut Brion has been, by many people and for many years, erroneously regarded as the second wine of La Mission Haut-Brion.