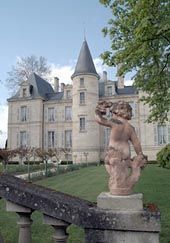 Pichon-Lalande had been acquired by none other than the Rouzard family of Roederer, the family acquiring a majority share of the estate, as well as in Chateau Bernadotte, also run by the de Lencquesaing family.

Delon acquired another 5 hectares. The major part of the vineyard is situated to the west and south of Pichon-Baron, on typical Gunzien gravels over a deeper clay and some very deep limestone and sandstone.

The vines are 45% Cabernet Sauvignon, 35% Merlot, an impressive 12% Cabernet Franc and 8% Petit Verdot. The fruit is harvested by hand, before being destemmed and crushed, and then fermented in temperature-controlled stainless steel vats, with a cuvaison usually lasting between 18 and 24 days. As the year draws to a close, May-Eliane and consulting oenologists Jacques Boissenot and Hubert de Boüard (the latter best known for his extended and highly successful stewardship of Angélus) earmark the wines for grand vin, Chateau Pichon-Longueville, Comtesse de Lalande (to give it its full title...about 35 000 cases per annum), or the second wine, Réserve de la Comtesse (about 6 000 cases per annum).

Some wines, particularly those from young vines, are excluded completely. The grand vin goes into Allier and Nievre oak, 50% new each vintage, for a period of up to 18 months, the second wine sees 25% new oak. There is a racking every three months, and a fining with egg white prior to bottling.