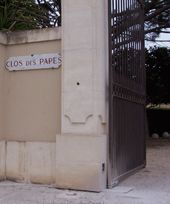 Robert Parker's Review :
"I have participated in so many exceptional tastings with Paul Avril that it is difficult for me to accept that his brilliant son, Vincent, may be eclipsing the work of his father. Vincent, trained in Burgundy, appears to be pushing things to an even higher level of quality. Nothing has changed in these cellars; everything is still as traditional as you will find.
All the wines are kept in foudre, and the red Chateauneuf du Pape blend is one of only a handful in the appellation that contains increasing amounts of Muscardin, Vaccarese, and Counoise along with 65% Grenache, 20% Mourvedre, and some Syrah. The white Chateauneuf du Pape is one of the longest lived of the appellation, and that's saying something. The Avrils have proven me wrong many times by opening old bottles that I would have believed to be dead, but are still full of life and vivacity."