Champagne Gimonnet
Champagne Brut Premier
Brut
Champagnes
Prix pour 6 Bouteilles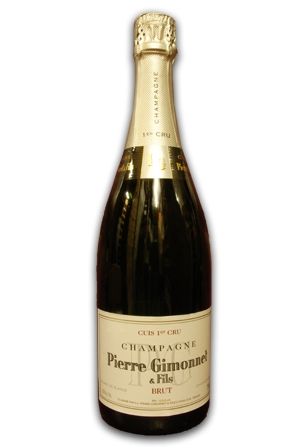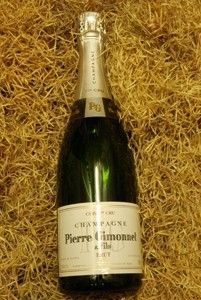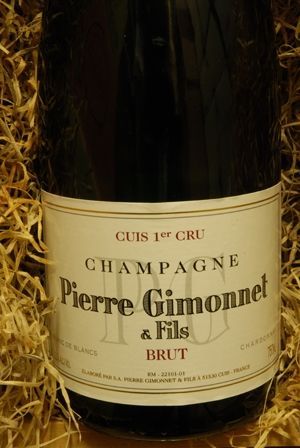 Notations :
Stephen Tanzer : 92 points
Wine Spectator : 90 points

Champagne Brut
Région :

Autres régions

Appelation :

Brut Premier

Cépages :

Chardonnay

Structure :

Finesse, Fraicheur, Satinée, Velouté

Familles d'arôme :

Agrumes, Fleurs, Fruits exotiques

Conservation :

A boire jusqu'en 2015

Température de service :

8-10°

Accords mets/vins :

Carpaccio de Saint-Jacques, Foie gras poêlé, Tapas de figues et foie gras





Descriptif du Champagne Gimonnet
Voici le brut sans année du Domaine Gimonnet. Un champagne qui représente parfaitement le style Gimonnet : nerveux, aérien, peu dosé et techniquement parfait. Il s'agit d'un premier cru de chardonnay planté sur le terroir de Cuis, issu de quatre vendanges différentes, "trois ans d'âge moyen", mais avec un vieillissement "court"

Commentaires de dégustation par Olivier Gimonnet :
"On apprécie cet assemblage classique "sans année", au goût constant, pour sa vivacité, sa légèreté, et sa finesse : toute la pureté des grands chardonnays de la Côte des Blancs."
Bettane & Desseauve, Grand guide des vins de France 2010 : 15/20
"Très fruité mais d'une rare franchise de fruit, excellente nervosité mais dosage adroit qui l'équilibre intelligemment. Parfait apéritif comme toujours. 2009 à 2012."
Guide Hachette 2010 :
"La fraîcheur est bien le fil conducteur de la dégustation dans ce BSA. Un blanc de blancs clair, aux nuances citronnées et exotiques, qui dévoile une pointe de minéralité crayeuse fort agréable. Il est prêt mais il saura vieillir."
Wine Spectator : 90 points
"Brisk and compact, exhibiting apple, floral and lemon notes on a lean profile. Nicely balanced and crisp on the finish. Drink now through 2010." (2009)
Stephen Tanzer's : 92 points
"Pale gold with a frothy mousse. Highly aromatic bouquet of tangerine, pear, minerals, sweet butter and lees ; smells like a Puligny-Montrachet. Fine, focused and pure, offering spicy citrus and orchard fruit flavors and a strong mineral bite. The minerality gains strength on the finish, which is spicy and strikingly energetic. This pure, graceful Champagne would be perfect with oysters. All of Gimonnet's wines go through malolactic fermentation." (2009)
Les meilleurs vins de France 2010 : 14,5/20
"On apprécie d'entrée de jeu la fraîcheur séveuse du Cuis premier cru."
GaultMillau 2010 : 15,5/20
"Cuis 1er cru est plus tendre avec des tanins équilibrés."
David Cobbold : 15/20
"Frais et vivace, avec beaucoup de finesse dans ses saveurs et une colonne vertébrale droite. Très salivant et parfaitement dosé, c'est un très bon blanc de blancs."

Nos autres ChampagnesChampagnes

2012
98 points

Le Cristal 2012 est une véritable explosion de senteurs de noisette fraîche et de pomme, et ...
1
Le Cristal 2012 est une véritable explosion de senteurs de noisette fraîche et de pomme, et atteste d'une finale d'une longueur époustouflante
Champagne - Cristal Roederer