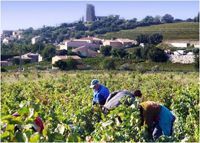 Robert Parker's Review :
"This is one of the benchmarks for traditionally-made Chateauneuf du Pape. Paul Feraud, a classmate of Henri Bonneau, is still involved in the running of this estate, but he has given more and more responsibility to his charming, talented daughter, Laurence.
Readers looking for uncompromising Chateauneuf du Pape that can age for two decades need look no further than Pegau. Their primary vineyard plots are well-placed lieux-dits called Monpertuis, Rayas, and La Crau, the latter being the parcel from which the bulk of Pegau's wine emerges.
The inimitable Feraud family, true guardians of the most traditional style of Provence and several Rhone appellations, is increasingly spearheaded by daughter Laurence, but her charismatic father, Paul, is always on the scene, with her mother, running the office. While Pegau's expanding production should be carefully watched, the talent is certainly there. Forgetting the estate wines, there are three levels of quality and price, including a new Tetra Pak in a liter package that is quite good."