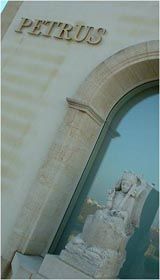 Is Petrus today the most famous estate in Bordeaux ? If this is so it would hardly be surprising; Petrus is one of a trio of right bank wines, the others being Le Pin and Ausone, which now sell at astronomical prices, typically thousands of pounds, dollars or euros per case if not per bottle.
As Clive Coates wrote in 1995 in Grands Vins, "Many of the top wines of Pomerol, I suspect, are known more by their reputation than by actual tasting experience".
The vines are trained low, and many are very old, with an average age in excess of 45 years. The heritage of the vineyard has been protected by both Loubat and Moueix over the years; after the devastating frost of 1956 Loubat refused to replant, instead grafting new vines onto the surviving rootstocks; some of these half-old, half ancient vines still populate the vineyard today. Since then, whereas it is usual to replace individual deceased vines with new, Moueix has resisted, ensuring the age of the vineyard remains high, and replanting whole blocks when it is ultimately necessary.
The ultimate yield is typically in the order of 35 hl/ha. In the cellars, which sit unprepossessingly at the side of one of the many minor roads that criss-cross the Pomerol appellation, the process of converting grape into wine follows a fairly standard pattern. There is a sorting before pressing and fermentation in thermoregulated concrete tanks, with maceration of the skins for 18-25 days. There is malolactic fermentation in a mix of oak and vat, and blending takes place in December before the barrel ageing per se begins, using 100% new wood. The wine will rest here for up to two years before bottling.