Domaine Guigal
Côte Rôtie
2010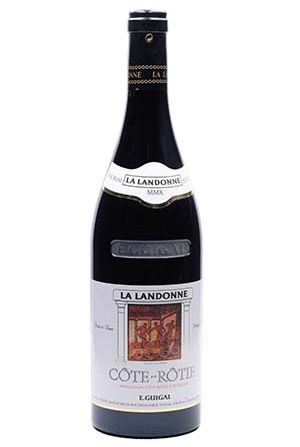 Notations :
Robert Parker : 98-100 points
Jancis Robinson 18/20

Red wine 2010
Area :

Vallée du Rhône

Name :

Côte Rôtie

Grape variety :

Syrah

Structure :

Ample, Complex, Consistent, Deep, Length, Powerful, Rich, Thick

Families of flavor :

Aromatic herbs, Chocolat, Coffee, Fresh fruits, Licorice, Mokka, Spices, Tobacco

Conservation :

A maturité 2025-2040

Temperature of service :

16°

Mets/wines agreements :

Canard sauce aux truffes, Chapon truffé en croûte de sel, Epaule d'agneau braisée

Capacity :

Bottle (0,75 L)





Description of the Domaine Guigal
The 2010 Cote Rotie La Landonne may merit a three digit score by the time it is bottled. A dense purple color is accompanied by an extraordinary bouquet of burning embers, espresso roast, black currants, blackberry liqueur, and pain grille. With aeration, bacon fat and licorice characteristics also emerge.

Robert Parker : 98-100 points
"Scheduled to be bottled in February of 2014, the 2010 Cote Rotie La Landonne is a more fresh, pure and focused example of the 2009. While it doesn't have the over the top exuberance of the prior vintage, it offers incredibly pure, detailed and classic aromas and flavors of black pepper, currants, blackberry, mineral and smoked bacon fat. Full-bodied, layered and deeply concentrated, yet also graceful and seamless, this knockout effort should require a decade to come around and have 3-4 decades of longevity." (2013)

Jancis Robinson
Noté 18/20 le 02/12/2011 , à boire à partir de 2025 et avant 2045

Very particular winemaking: continuous pumping over during fermentation, like port and Algeria, because Landonne has a great phenolic potential and the phenolics are extractable. Crackling and lively but awfully firm and rigid. Inky and heavy charge of tannins. Cherche le fruit! A solid phenolic marvel this, but boy will you have to wait! Dry and dense - not made for super tasters. To admire rather than savour. Monument rather than a drink!
The Net surfers having chosen this wine also consultedWines also consulted
Our others Rhône wineRhône wine